SYRINGE DISPOSAL SERVICE
Still throwing dangerous syringes in the bin?
Are you starting a new business involving the use of syringes?
Vedder is here to help you!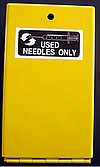 It is illegal to throw away syringes in the general rubbish bin. Failure to follow this law can result in an expensive fine and can harm or even kill others.

 We can help you meet the safety standards by supplying you with this sturdy solid steel unit. It is lockable so once a syringe goes in, it doesn't come out until it is legally disposed of. It holds 1.4 L and is also available in 2L and 5L.
We do a full service including installation and maintenance. We follow legal EPA regulations.
We stock a range of plastic Sharps Containers from 1.4 litres to 20 litres available for outright sale or prepaid including disposal cost
Pick up and disposal service of full sharp containers is available Email: info@vedder.com.au