SOAP DISPENSERS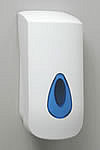 Do you still use sloppy bars of soap?
They could pass on germs from one person to another.
Do you have soap dispensers that are always empty and leaking?
Vedder can help you!
We can fully service and provide a soap dispenser for health and safety requirements to match your type of industry.
Much like all of our other services, you don't have to lift a finger!
We service on a regular basis and replenish them with the latest soap technology available today.
CHOOSE A SYSTEM TO SUIT YOUR NEEDS
FOAM SOAP SYSTEM
SPRAY SOAP SYSTEM
LIQUID SOAP SYSTEMCHOOSE A TYPE OF SOAP TO MATCH YOUR REQUIREMENTS
FOOD GRADE (Suitable for Food manufacturing, Commercial kitchen, Canteen etc
ANTI BACTERIAL (Suitable for Healthcare facilities, Nursing Homes etc)
STANDARD PREMIUM (Suitable for offices, Workplaces, Public Places etc )Our Soap and Dispensers are availaable for sale or fully serviced